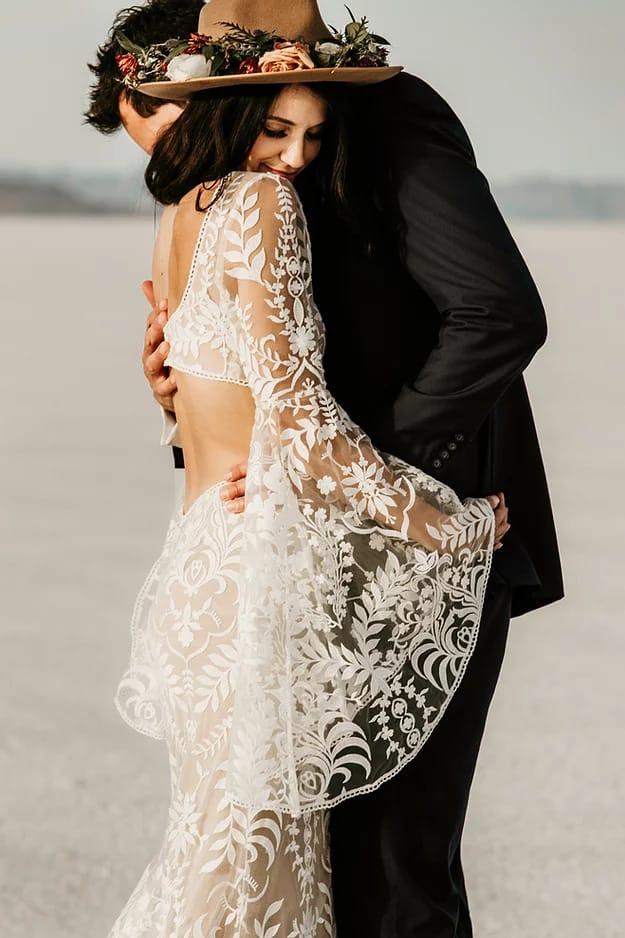 About Sherry
I'm an international flight attendant, an environmental elopement photographer (with mostly an airline clientele!)  and now I rent out dresses to other photographers. I never had an intention to rent amazing dresses – this dress rental business literally fell into my lap during 2020, the year that really didn't exist. Funny how things happen but I learned to pivot with the times, and here I am.
It really started with my own research for an epic outfit to wear. I planned a surprise trip to Greece for my husbands birthday in Nov 2020, and had a photographer all lined up to do OUR photography on our vacation. The pandemic changed all our plans. The next thing I knew, the epic blue skirt I'd purchased for myself became so popular, she has been going renter to renter for months. I haven't yet photographed, or been photographed in her. I named her Skye – go find her in my inventory and you'll see how amazing she is!
Since then, I've learned how to buy dresses wholesale, work with seamstresses to design my own dresses (with their help) and have created long lasting relationships with event planners, florists, and other amazing photographers. I love watching the trends and seeing other creatives fulfill their own vision with my dresses, and it's way more fun than storing them to collect dust… it's like Christmas every week for me when I get to see all the amazing images of MY dresses traveling MORE than I do!
My dresses can ONLY be used for Styled Photoshoots – not REAL Weddings or Elopements. I do NOT rent to brides – it's not part of my business model. I tried, and it just didn't work because brides need and deserve special attention, including CUSTOM made dresses to their size. 
(But I MAY start working with a special boho line to SELL to brides at reasonable prices, in the near future.. stay tuned!
These rentals are strictly for event planners, adventure elopement fashion, lifestyle and wedding photographers. No exceptions, and no collab requests please.
What are you looking for?
1. Choose your dates on the calendar. They are blocked for 4 days that you will have the dress in your possession, with padded time on the front and backend of these dates for shipping. This block of time may vary depending on holidays or various known shipping issues with the individual carriers (USPS, UPS, Fedex)
*Typical dates you will choose for a weekend rental are Thursday – Sunday. If the dates are not available, it means that they are being rented or in the process of shipping.
The FIRST DAY of your 4 days chosen will show as your BOOKING DATE on the contract. This is the day you want to receive the rental by. If you receive the dress early, just hang the item to release wrinkles. Items are shipped via USPS 2 day Priority or via UPS or FedEx 2 day shipping.
2. Add all desired rental items to your cart by clicking "Book Now." The price for the item and the applicable refundable dry cleaning deposit will generate automatically.
3. When checking out, you must choose PayPal to get to your payment options, and from there can choose to pay via credit card, or with your PayPal account.
*Once payment is made, you will see your receipt with detailed information, and the final step is you MUST click "Return to Merchant" to sign the contract. Double check the dates and any pertinent information, click your agreement and sign. An unsigned and unread contract is an incomplete transaction, and you will not receive your rental. Be sure NOT to skip this step.
The contract will then be generated with the details of your rental choices and be sent to your email address provided, confirming your signature and your order.
4.Your order will include free shipping TO you (exception: shipping to Canada). You will responsible to pay for shipping back to Sherry, or to the next renter. It is required for you to ship back to Sherry or to the next renter in the same manner. Do NOT ship Ground for cheaper shipping. Time is of the essence, especially when shipping renter to renter.
*Exception: Canadian renters must pay ALL shipping. BEFORE BOOKING, you must CONTACT SHERRY to have her check availability for a dress to ensure there is ample time to provide an additional shipping time buffer to ship internationally.
5. If the rental is coming directly from Sherry, an email will generate when shipped to share the tracking number with you. If a previous renter is shipping it to you, they will pay for shipping to you, provide the receipt or tracking number to Sherry, and Sherry will provide the tracking number to YOU on the date that it is dropped in the carrier service.
FREE SHIPPING TO YOU! 
*some exceptions may apply
My Collection-
use the tabs or simply browse "All"