10 Epic Landscape Locations For Your Engagement Photos
So you're engaged! The first thing you'll realize is that you need engagement photos, and I KNOW you won't want them to be the same as anyone else! Here are some ideas based on epic landscapes. and what they have to offer!  Let me know what you think and if this blog inspires you!
As a flight attendant and adventure elopement photographer, landscapes are always on my mind. No matter where I go in my travels, I've always made mental notes of prime locations for engagement shoots. Take a look at some of the photographers who've rented from me and how they, with their bride-to-be, envision the engagement shoot using one of my epic gowns.
Salt flats or dry lakebeds
If you haven't made the trek to the Bonneville salt flats, well, you are simply missing out. it's magical and the perfect place to let your creativity run rampant, using the flats as a blank slate. Make sure you check the weather before you go, or you may be standing ankle-deep in water, which really isn't so bad for amazing photos – if you are prepared for it! I LOVE this spot for engagement photos! I've also photographed an elopement in a dry lake bed in Vegas, which was pretty cool!

Photo of Gatsby gown by Alyssa Rae Photography
Sand dunes
The simplicity of the dunes and the soft sand between your feet; it's such a romantic location and the perfect place to focus on each other during your engagement shoot (without the crowds!)
Photo of Elsa couture gown by Jillian Rollins Photograph
Grassy coastline
You can't go wrong with an engagement shoot by the coast, especially during golden hour. If you do it during the summer, most tourists will go home just before the sun goes down to go to dinner, and you'll get the location all to yourself! Really!! Or go at sunrise, even more magical!

Photo of Indigo gown by Emily Arwine Photography
Cliffs
Cliffside engagement photos are perfect for adding texture to your photos to keep the eye interested! These cliffs were actually in Deadhorse Point State Park. You can never go wrong with finding an epic location in a national or state park!

Photo of Ariana gown by Sarah Damiani Photography
The desert
Taking engagement photos in the desert may not be your first choice, but I promise you'll change your mind after the experience! It's magical! Maybe it's the dust in the air that gives photos a soft romantic finish? We'll never know!

Photos of Dakota gown by Angela Khalil Photography
A warehouse or alleyway
A warehouse or alleyway is perfect for a city engagement. There's something about the juxtaposition of putting a gorgeous gown on a beautiful bride-to-be in a not-so-gorgeous location that really makes the couple stand out! If you love graffiti, look for that extra touch!
Photo of Mariah gown by Becca Gail Photography
The beach
The beach is a classic landscape for engagement photos. It, too, is a magical place, and if you pay attention, clouds in the sky really make for an exciting engagement photo. Do not worry about bad weather; a good photographer can usually work around it!

Photo of the Alex dress by Lindsey Ann Photo
Rock outcroppings at the coast
One of my favorite landscape locations involves rock outcroppings rising up from the ocean. From Oregon to Portugal, they just make photos epic, don't you think?
Photo of Lexi dress by Destination Anywhere Photography
 A lake or pond
A favorite place to take photos is a canoe or boat. But don't just stop at that; think canoe, kayak, anything that floats in water in a lake or pond! We did a shoot once with a blow-up swan, which was so fun! There is something magical and romantic about being surrounded by water!

Photo of Gatsby gown by Emma Gayle Photography
A rooftop
Rooftop shoots have really become popular lately. I haven't shot on one myself, but I'm curious how you find one without cars! If you can, please tell me where!? This couple totally pulled it off for their engagement shoot, and I love it!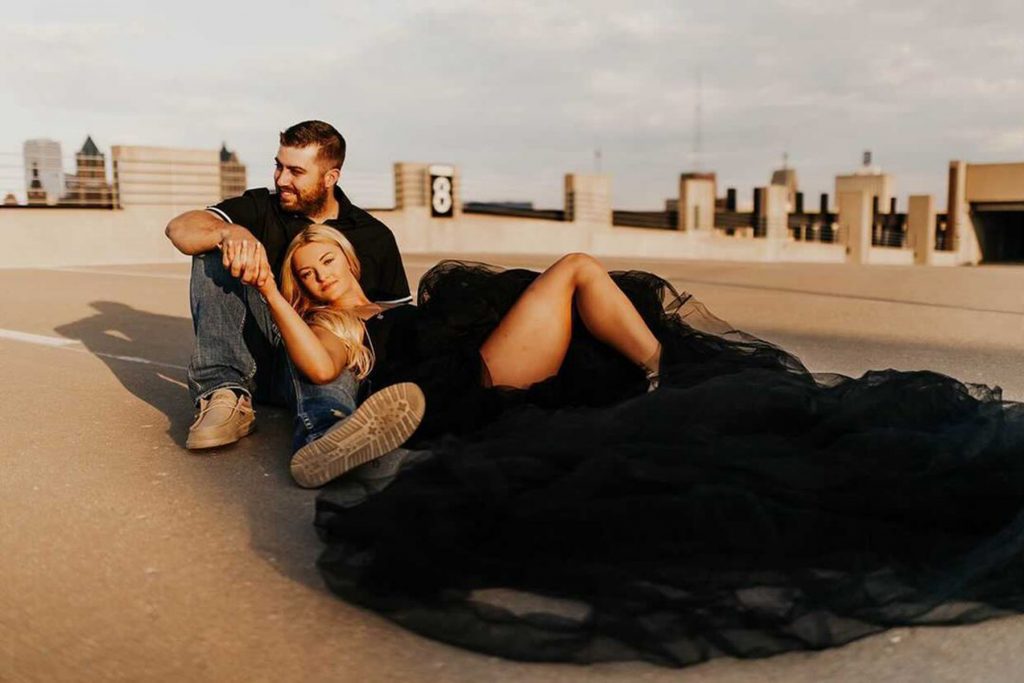 Photo of Midnight skirt by Sophia Savage Photo