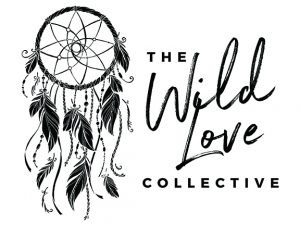 Dress and gown rentals have been growing in popularity… wedding industry creatives and photographers, have you noticed? I was one of the first dress rental companies to blow up my business on Instagram during the growing trend in 2019 & 2020. I'm Sherry, the owner of The Wild Love Collective.  OHMYGOSH has it been a FUN journey!
But I'm here to tell you that The Wild Love Collective is FAR MORE than just a dress rental company, and I want to show you how renting a dress from The Wild Love Collective is far different than the rest.  But most importantly, how it benefits YOU! I'll start by saying that I am completely motivated by the love of building relationships with my renters, renters that INSPIRE me with their creativity. CREATIVES-  WOW, you all are so amazing in your craft! I am blown away! When I first got started 2 years ago, so many were JUST getting into photography – and look where you are now with your websites!  I'm so proud of all of you! GREAT JOB!
Did you know?
Having a dress rental company is a fun side gig for me. This dress rental company rather fell in my lap in the fall of 2020 when I was building my own elopement photography portfolio. An event planner asked to use my gorgeous skirt, Skye, for a styled shoot, a skirt, that was meant to be MY skirt to be worn on a trip to GREECE that got canceled, because of the pandemic. Well, that skirt literally went viral. If you want to really know the details of how I started my dress rental business, click here. But my main job is as an international flight attendant. I've worked for the airlines for 24 years with THE most amazing carrier in the US. I also attended Brooke Institute of Photography in 2003, a renowned photojournalist program. I live and breathe everything about airlines, travel, and photography. Uniquely, though, I am not aspiring to become the next famous photographer. Instead, I have always had a desire to HELP other photographers. It's my "WHY" and  It's only ONE of the reasons I have a dress rental company. For a time, I was debating ways to HELP other photographers and it all fell into place with my dress rental business. But it's becoming more than a dress rental business. Keep reading, I'll show you how and how it benefits YOU! Reach out to me after reading and let's get started!
Photo of the Skye skirt by Sarah Lotus Photography
Here are the first six reasons how The Wild Love Collective is intentionally different and how it benefits you!
I rent MODERN and timeless dresses and gowns because they will help wedding industry creatives, especially photographers, build a better portfolio.
Renting a dress/gown from The Wild Love Collective gives you the creative outlet to produce photos YOU ENVISION for your portfolio, not just what your brides hire you for.
Once you've built a portfolio that suits your ideal clientele, you will always attract the right clientele, which avoids burnout.
Once your portfolio becomes consistent in drawing your ideal clientele, you will be able to charge more. My dresses help show your clientele it's more about the experience than the price!
There is a tremendous amount of creative freedom with styled shoots. Rent a dress, put on a styled shoot, and see how fun and creative it allows you to be!
All of my dresses are well cared for by my renters and by myself.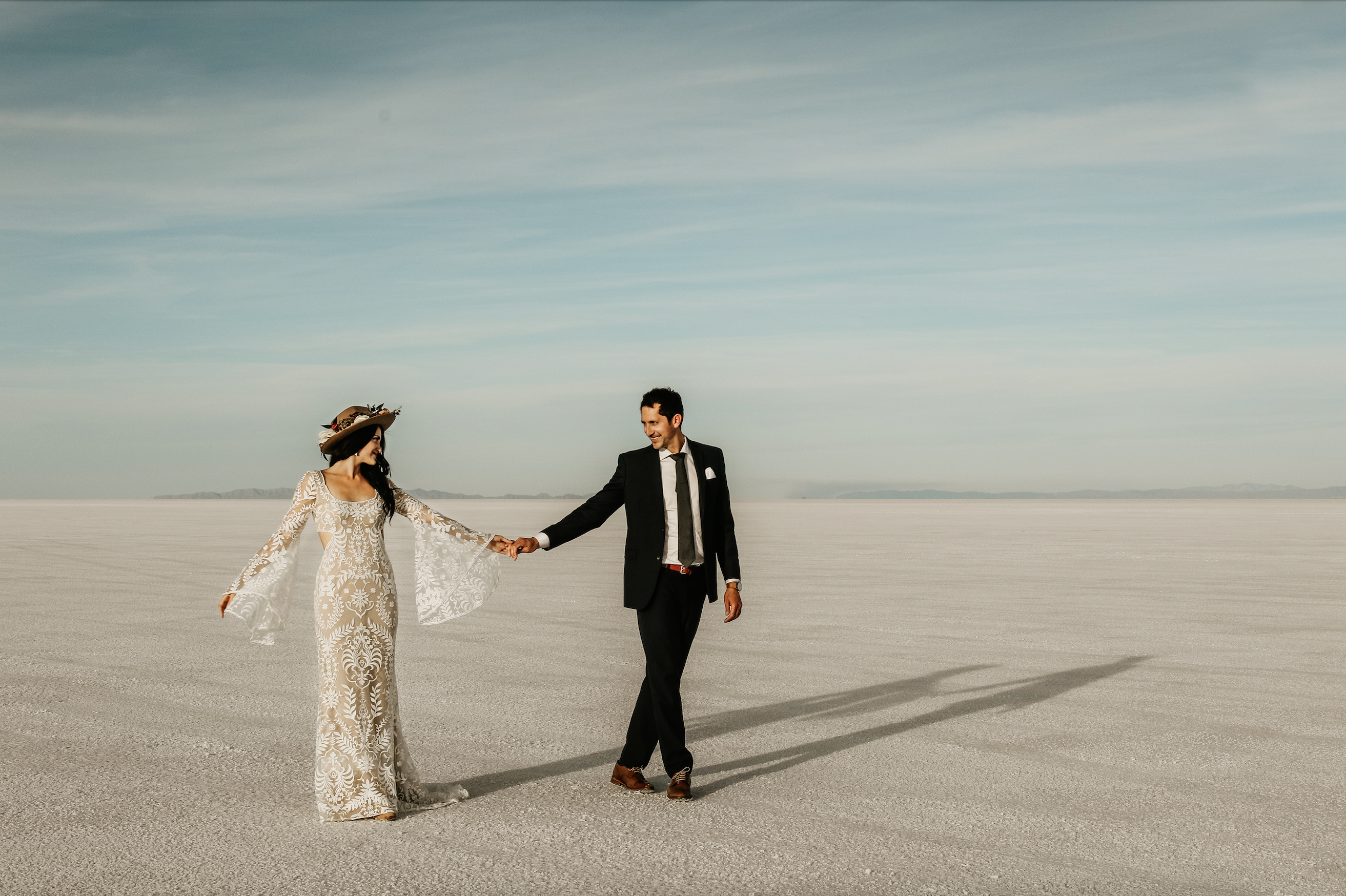 Elopement inspiration in the Bonneville Salt Flats, Utah. Photo of Phoenix by Sherry Peters
Are you ready for the TOP 7 important reasons? don't stop reading — I offer FREE stuff!
Do you run retreats, content days, or workshops? Creatives who rent a dress from The Wild Love Collective may produce a mood board to post on my "IG stories" to help you market and sell their content retreats. FREE MARKETING – where else can you get this?
I advise about dresses, yes. But also give feedback and help you learn about SEO and building organic reach on your website.
 With more organic reach, ultimately, your website will get more traffic and therefore bring you more ideal clients!
I have so many great reviews you will WANT to rent my dresses – look at the reviews under each dress on my website! Reviews are the perfect place to say something nice and promote YOUR website. MORE FREE MARKETING – want to get in on this? go give a review on a dress you rented on the page you rented it from~easy!
I often take my dresses on my layovers to go explore with the crew, and share new bucket list destinations with YOU, that you may not have known about before! Hello Pria da Ursa – have you ever heard of it? I bet not, but you should go look it up right now! and if you ever want to travel there, I've got the travel details already figured out for you. Look at my photos of the Luna dress to see this location!
I am so inspired by other photographers' creativity, and I want to show it OFF on social media and my website and make a big deal of YOUR ART. More FREE MARKETING!
Having a large following on Instagram allows me to do this! My IG platform is ALL about the work of my renters and very little about my own photography. I tag EVERY creator involved in the styled shoots many times to make a big deal of THEM! What does that ultimately mean? More exposure for you and your business, being seen by eyes that may not have seen your work!
Most importantly,  as a BONUS:
I put together a yearly travel retreat as a THANK YOU to my renters, plan it all out, pay for it, and shoot right alongside you! You are eligible ONLY if you have rented from me in that year. In 2021, we photographed couples in an amazing gorge in Vermont and in vintage Airstreams! This past May, we went to Moab and played dress-up in the desert. In 2023, I'm dreaming of an international retreat! Do you have any location suggestions?
Photo of the Rain gown by Connor David Photography
So if you just want a gown rental and really don't care about being intentional with your portfolio, don't care to build a relationship or "chat" with me about your latest travels, where you are photographing next, your fur babies, or do not need the extra support I give, I welcome you to go rent with other dress rental companies. It will just satisfy your need to get a dress on the books.
But if you are anything like me –  from being wildly in love with my husband to shooting gorgeous couples in epic locations, someone who loves to travel and talk about pets, to photographing every amazing landscape you see, you should definitely rent from me! Say hi on my IG page, just because! With the IG algorithm being so messed up on engagement, I'd be happy to comment on your latest post and give you love back!  And being a photographer can be lonely sometimes! Stay a while, let me get to know you, have a conversation with me, and I may just "throw" you a free dress to photograph. Yep, I have my favorites – favorite photographers, that is! If you form a relationship with me, that's how you get on the list! Wink wink… Sherry
Photo of the Mariah gown by Hannah Faith Photography
ABOUT THE WILD LOVE COLLECTIVE
The Wild Love Collective is a woman-owned dress rental company based in Boston, MA. Sherry is a senior international flight attendant and an elopement photographer. She brings her dresses to epic locations to photograph on layovers, and instead of letting them sit in her closet, she rents them to others for photo shoots. Her rental clientele includes photographers, event planners, and other wedding industry creatives like florists, wedding venues, hairdressers, and jewelry designers. The dress rentals are not limited only to the wedding industry creatives. Other clients include models and social media influencers trying to build their portfolios, mamas looking for a couture dress for an epic maternity shoot; and brides-to-be looking for a gorgeous dress for their engagement shoot. Sherry's designer dresses, couture gowns, and handmade made-to-order dresses are only for photo shoots and not for events. Brides may inquire to see if one can be made to order, Dress rentals, however, are forbidden to be used for real weddings, elopements, birthday celebrations, baby gender reveal parties and other events.
Photo of the Meridien Moon dress by Jess Mahon Photography
QUESTIONS?
Please ask if you have any questions while browsing my dress rental website! I am very accessible by email (sherry@thewildlovecollective.com) or by IG messaging (Instagram.com/thewildlove_collective)  For more information on rentals, please read the Terms & Conditions listed on the website before you rent! My dress rentals are ONLY for rent and intended for photo shoots. Thank you for understanding! Need a photographer? I have a limited preferred vendor. Go check it out!